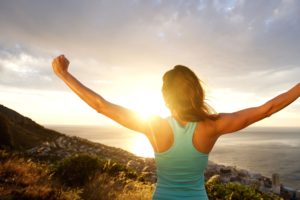 10/23/2018  
Whatever your fitness goals might be A+ Fitness is here to help you reach each and everyone of them! We have compiled a list of the some of our best fitness to help you succeed on a daily basis! We encourage you to incorporate a few into your daily routine each week and watch as your health begins to change!
Developing a positive attitude is crucial to reaching your fitness goals. Your thoughts can determine how you feel and often what you can accomplish. Napoleon Hill once said,
"What your mind can conceive and believe, you can achieve."
 We need more meditation and less medication. Meditating can reduce stress, improve your health, help get focused and improve your breathing.
Exercise is a great mood booster when you have had a hard day. Simply going for a run or throwing a few punches on the bag can be just what you need to relax and change your mood!